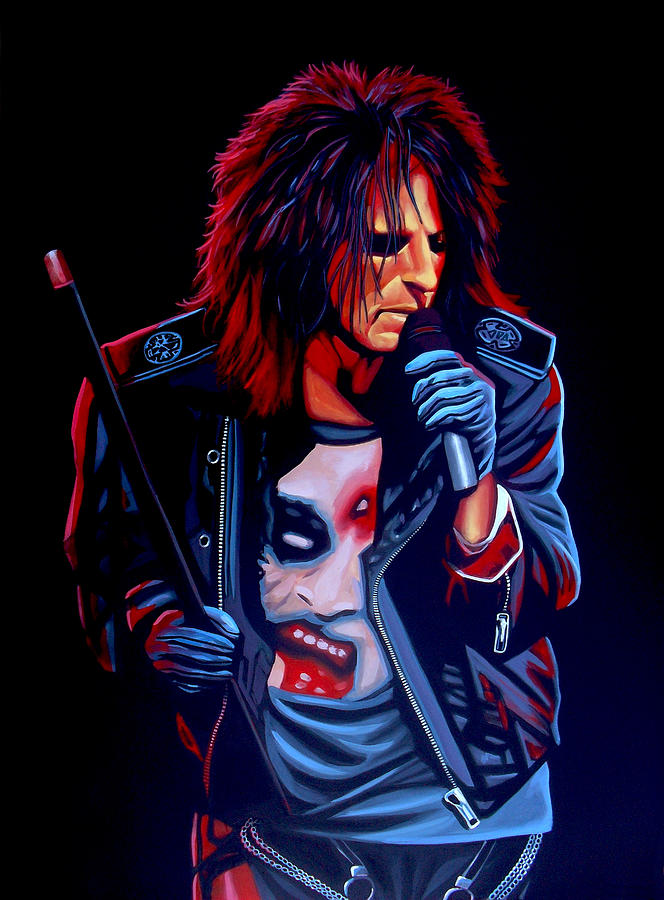 Dimensions
90.000 x 120.000 x 1.000 cm.
This piece has been already sold. Please feel free to contact the artist directly regarding this or other pieces.
Click here to contact the artist.
Medium
Painting - Acrylic Painting On Panel
Description
Alice Cooper - realistic acrylic painting by the Dutch fine artist Paul Meijering - the Original painting is 120 x 90 cm and SOLD

Alice Cooper (born Vincent Damon Furnier; February 4, 1948) is an American singer, songwriter, and actor whose career spans over five decades. With his distinctive raspy voice and a stage show that features guillotines, electric chairs, fake blood, deadly snakes, baby dolls, and dueling swords, Cooper is considered by music journalists and peers alike to be "The Godfather of Shock Rock". He has drawn equally from horror films, vaudeville, and garage rock to pioneer a macabre and theatrical brand of rock designed to shock people. Alice Cooper brought a theatricality to rock music that did not previously exist.

Originating in Phoenix, Arizona, in the late 1960s after he moved from Detroit, Michigan, "Alice Cooper" was originally a band consisting of Furnier on vocals and harmonica, lead guitarist Glen Buxton, Michael Bruce on rhythm guitar, Dennis Dunaway on bass guitar, and drummer Neal Smith. The original Alice Cooper band released its first album in 1969 but broke into the international music mainstream with the 1971 hit "I'm Eighteen" from their third studio album Love It to Death, which was followed by the even bigger single "School's Out" in 1972. The band reached their commercial peak with the 1973 album Billion Dollar Babies.

Furnier adopted the band's name as his own name in the 1970s and began a solo career with the 1975 concept album Welcome to My Nightmare. In 2011, he released Welcome 2 My Nightmare, his 19th album as a solo artist and 26th album in total. In 2011, the original Alice Cooper band was inducted into the Rock and Roll Hall of Fame. Expanding from his Detroit rock roots, Cooper has experimented with a number of musical styles, including art rock, hard rock, heavy metal, new wave, glam metal, pop rock, experimental rock, and industrial rock.
Statistics
Viewed 15,920 Times - Last Visitor from Cambridge, MA on 10/06/2022 at 4:16 PM